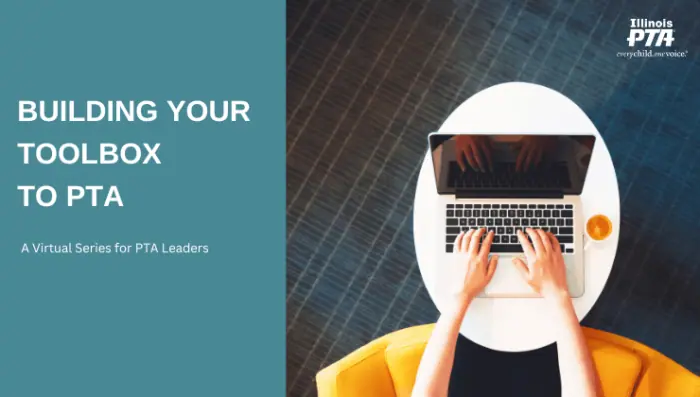 Building Your Toolbox to PTA
Thrive Learning Community
Thrive is PTA's new online learning community for volunteers. Thrive brings PTA leadership development to you. Through Thrive's engaging, short courses, you can take training at your own time and place—even from football practice, a dance studio or a soccer field.
Nominating Committee Workshop – Who will lead our PTA next year?
Who will serve on the nominating committee, how will they find candidates, and what are all those fancy parliamentary procedure things to say at a meeting? Send someone from your unit, whether they will serve on your nominating committee or not, to bring back ideas to find volunteers. Join us on Tuesday, January 17, at 7:00 PM.


Webinar Series: Transforming Family-School Partnerships PTA National Standards
The Center for Family Engagement is thrilled to partner with the Institute for Educational Leadership for a five-part webinar series around the National Standards for Family-School Partnerships. This series is designed to help district, school and parent/community leaders explore PTA's six National Standards through panel discussions with leading practitioners, researchers and policymakers who are improving family-school partnerships so that all children can reach their full potential.

Get dates, times and register here.

For more information about the PTA National Standards and corresponding webinar session, visit PTA.org/Standards
Membership Monday – Dues Submission Training
This training will show all PTA leaders the steps to submit their dues payments through Memberhub. Together we can unlock IL PTA's membership potential to become a stronger voice for every child.
Membership Remix 2021
Looking for ways to boost your membership? Join IL PTA Membership Director, Kristin Klis, Monday, January 25th at 7 pm on the Zoom webinar "Membership Remix 2021″. During the webinar, Kristin will share new National PTA membership resources, spotlight successful local unit membership campaigns and network with other PTA leaders.
Missed the webinar? Watch the recording
here
.
How Do You PTA? Virtually, of course!
The pandemic has changed the way we do many things. You may have asked, 'If you can't meet in-person, how do we PTA for our children?' We have been asking the same question and are here to tell you it is possible and exciting the new opportunities virtual PTA opens up. We will provide you with tips from hosting a virtual meeting to holding an online family events. How we PTA may need to adjust and we are here to help you.
Missed the webinar? Watch the recording here!
Introduction to National PTA E-Learning
Meet the world of PTA e-learning. We will introduce you to the National PTA digital library that contains videos, eLearning courses, and resources to help you Become an Amazing PTA Leader, Gain Nonprofit Management Skills, Grow PTA Membership & Resources, and more. And the best part is, they are available when you are.
Missed the webinar? Watch the recording here!
Being A Voice for Your Child
Ever think to yourself… "Someone needs to speak up about that problem" … but felt that you couldn't be the one because you didn't know how or felt that no one would listen? Come explore the process and utilize National and Stater PTA Advocacy resources. Believe it or not you can be that person who speaks up for themselves and/or others. You can be the advocate your child needs.
Missed the webinar? Watch the recording here!
Keep them Coming and Keep them Connected
Engaging volunteers is an on-going activity for all local units. Join us to review key activities that put recruitment and advocating for our children at the top of your plans!
Discussion includes how to plan all year to engage current and new members, ideas to widen the net of potential volunteers, the need to be flexible in how we offer opportunities to participate and how to avoid over-managing volunteers. Bring your ideas and learn with each other for success this year and beyond.
Missed the webinar? Watch the recording here.
Who is Next to Lead?
Encouraging others to their next level of leadership is a goal of IL PTA. Being intentional in reaching out to local units leaders and showing them a path is the way that we sustain our organization and help it grow. Join us with a panel of local, regional, state and national leaders to discuss effective ways to develop leaders and mentor them into their next leadership opportunity. More to come on who will join our panel!
Missed the webinar? Watch the recording here.