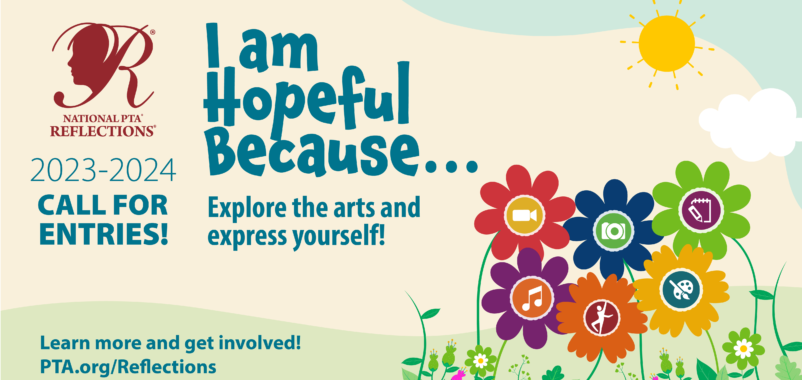 A Reflection on Hopefulness
"Art should be a place of hope." – Stephen King
The 2023–2024 PTA Reflections theme is I am Hopeful Because…
The PTA Reflections program provides opportunities for recognition and access to the arts which boost student confidence. Visual and performing arts naturally align with established Social and Emotional Learning (SEL) goals.
Each year, over 300,000 students in Pre-K through Grade 12 nationwide create original works of art in response to a student-selected theme. Approaching its 55th year, this program helps them explore their own thoughts, feelings, and ideas, develop artistic literacy, increase confidence, and find a love for learning that will help them become more successful in school and in life.
Students submit their completed works of art in one or more of the arts categories: Dance Choreography, Film Production, Literature, Music Composition, Photography, Visual Arts. They participate in their grade division: Primary (Pre-K – Grade 2), Intermediate (Grades 3-5), Middle School (Grades 6-8), High School (Grades 9-12), Special Artist (All grades welcome). Students who identify as having a disability and may receive services under IDEA or ADA: Section 504 may enter in the Special Artist Division or grade division most closely aligned to their functional abilities.
All children and families from across the state are invited to attend and participate in the activities at Spotlight, the Illinois PTA Cultural Arts Celebration, taking place at Millikin University in the Spring.
Visit our 2023 Spotlight Gallery to see last year's entries advanced to the National PTA level and our 2023 Spotlight celebration of the arts.
If you know a child who is interested in participating in the Reflections Program, please watch this video and review the Welcome Letter and Rules in Brief below.
If you are a PTA planning to participate in the Reflections Program: please watch this video and review the Welcome Letter, Rules in Brief and the Local Leaders Guide below. Please also visit the Leadership Resources section of the Website for additional details, forms, and resources.
Need help starting a Reflections Program through your PTA?
Contact [email protected] to get started.
23-24 Reflections Welcome Letter for Local Leaders
23-24 Illinois PTA Reflections Rules in Brief
23-24 Illinois PTA Reflections Rules in Brief (Spanish)
23-24 Reflections Local Leaders Guide
23-24 Reflections Local Leaders Guide (Spanish)
Diversity Pledge
Diversity Pledge (Spanish)
Diversity Arts Celebration Guide
Creative Career Fair Guide
ArtsEd Leaders Guide
A Family Guide to Selecting Diverse Books
Family Art Extras
Reflections Crossword Puzzle
Reflections Coloring Book
Reflections Art Categories Coloring Sheet
Reflections Activity Sheet
Reflections Activity Sheet-Spanish
Family Art Activities